Get Complete details of RIMC Dehradun Syllabus 
RIMC Dehradun is one of the most prestigious school entrance exam in India. Students across the country who aspire to join Indian Armed Forces strive to excel in RIMC entrance exam. 
To perform well in RIMC entrance exam, 1st step is to get thorough understanding of its syllabus or the list of topics from which Questions are likely to be asked. Official booklet provided by RIMC along with its prospectus is somewhat helpful but fails to provide a complete picture of entire RIMC syllabus.
In this post we will try to give you a complete picture of RIMC Dehradun syllabus. For RIMC Dehradun fee structure, Click here. 
RIMC Dehradun Mark Scheme
RIMC Dehradun Math Syllabus 
To Prepare well and Score a seat in RIMC Dehradun exam, a child has to be well versed in Maths. Mathematics carries greatest weightage in RIMC Dehradun entrance exam. Observe all topics with great attention.


RIMC Dehradun English Syllabus 
As you can observe, RIMC English Syllabus is quite vast and has lot of scope for kind of questions that can be made out of this syllabus. As per our observation, the only way to ace RIMC English exam is by diligent writing practice. Let's face it: There are no miracles in life. Without consistent writing practice, its impossible that you will perform well in RIMC English Exam. To get started, we recommend to student's to start with popular yet pocket friendly magazines such as Kurukshetra, Outlook, Competition Success Review etc and then graduate to more serious literature. 


RIMC Dehradun General Knowledge Syllabus 
RIMC General Knowledge is totally unpredictable. Even to an experienced eye, there seems to be no pattern or connectedness in any of previous year GK exam papers. But for your facilitation, we have extracted out topics from previous year RIMC Exam papers and written below are set of topics from which maximum number of questions were asked in General Knowledge portion of RIMC Exam.


Prepare for RIMC Dehradun Entrance Exam
Dabad Academy is well-known for its selections in India's Best Boarding Schools. We run offline, online and hostel boarding programs to train student's for RIMC Dehradun entrance exam.

The focus of the first training phase is on improving student's writing skills because poor English writing abilities are the main reason why students fail this exam. To excel in this we use help of newspapers such as Financial Express, Times of India, Hindustan Times etc. Once a child has mastered basic concepts, then full focus is on quick coverage of entire syllabus. Different pupils respond differently to RIMC Syllabus. As instructors, we try to help them maintain a constant pace for syllabus coverage.

Final Phase of RIMC training is all about Practice. Practicing previous year exam papers is the sure shot method to build confidence in one's abilities. Particular emphasis is given on providing them right feedback at right moment. A mistake evaluated on time leads to progress. 

To know more about our RIMC training Programs, you can reach out to us on 8595669919.
Join Parent's Group for Timely Updates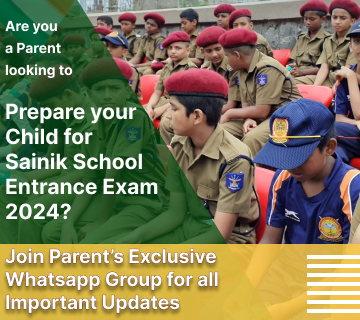 Click here to Join Parent's Group for Timely updates regarding Sainik Schools, RIMC Dehradun, Rashtriya Military Schools entrance exams.

For Complete Sainik Schools Entrance Exam Information, Click Here.